First-Ever Generic Bt Corn Nears Farmland
[Fonte: Ag Professional] FBN is gathering data at generic Bt test plots in five states, says Ron Wulfkuhle, head of seed, flanked by R.J. Krekeler, seed district sales manager. ( Chris Bennett )
Extremely low-cost and high-yield Bt corn? Off-patent, generic Bt corn is rapidly approaching farmland and the price differential might cause buyer whiplash—a possible $100 spread. Further, the off-patent Bt corn is backed by new genetics with the reported potential for yields on par with current traited hybrids.
More than 20 years after the revolutionary advance of Bt corn and the subsequent giant shift toward transgenic crop production, Farmer's Business Network (FBN) is developing generic Bt corn and projects market entry within two years. Currently, FBN is gathering data at maiden 2019 generic Bt test plots in five states, and preparing a submission package for EPA regulatory approval.
"A Big, Big Number"
Bt (Bacillus thuringiensis) corn commands a massive influence in today's market, explains Ron Wulfkuhle, head of seed at FBN. "Bt corn covers almost 80% of the market, and I'd say glyphosate-tolerant [GT] and conventional corn account for about 20%."
In the late 1990s, Wulfkuhle served on the team that first developed, attained EPA approval and launched the first patented Bt corn sold in the U.S. More than two decades later, the rate of price increases remains a surprise to Wulfkuhle, far beyond the initial upcharge of $9.50: "Looking back 20 years ago, I'd have never believed where prices have gone. We were actually scared farmers wouldn't pay $9.50—at the time a 15% increase in seed cost. Fast forward to today and we're talking $265 easy for traited corn and $175 for conventional corn. FBN is at $99 for conventional corn, and we'll have to figure out what works for farmers with the generic Bt seed, but there is a possibility of a $100 reduction per bag from traited corn currently being sold."
"Yield Has To Be There"
Off-patent Bt corn trials are scattered at five sites in Arkansas, Georgia, Mississippi and Tennessee. FBN's generic Bt corn, using an expired patent, provides high-dose control of European corn borer and southwestern corn borer, as well as suppression of corn earworm and additional insects.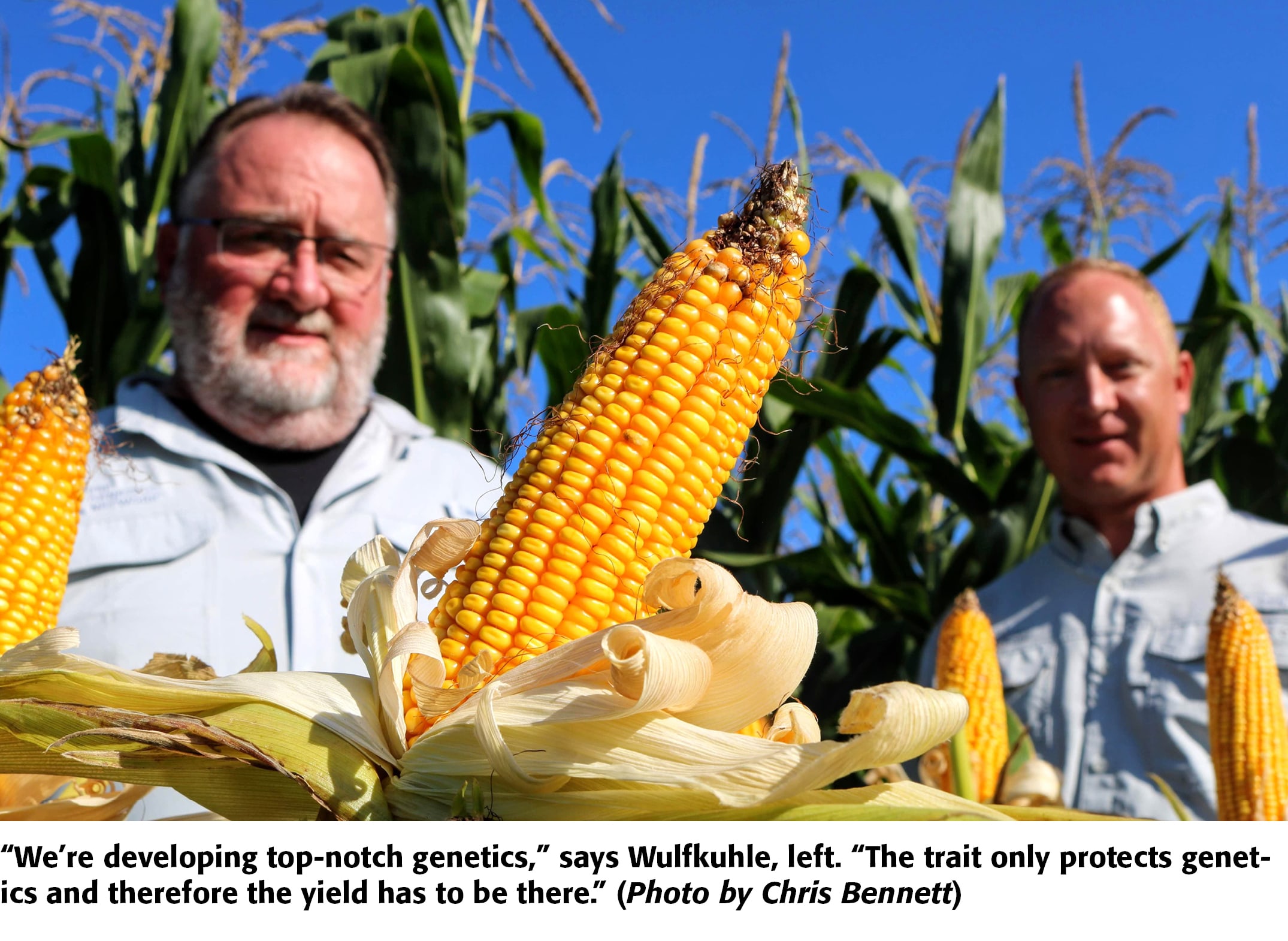 Although the Bt trait is off-patent, Wulfkuhle emphasizes the genetics are new. "We're developing top-notch genetics. The trait only protects genetics and therefore the yield has to be there," he says. "Already, the feedback we're getting is awesome and very positive."
R.J. Krekeler, seed district sales manager for FBN, also highlights the importance of strong yield: "Part of these trials is comparing the isoline—that same genetic line—with and without the Bt trait to make sure there isn't a yield difference."
Hit the Shelf?
FBN's generic contains a single Bt trait and growers will need to plant a structured refuge. A 20% structure in the Midwest and a 50% structure in cotton growing areas is the present standard, and Wulfkuhle expects the regimen to remain the same. "Generic Bt corn shouldn't be treated differently, but we still have to obtain registration, yet scientifically, there is no difference."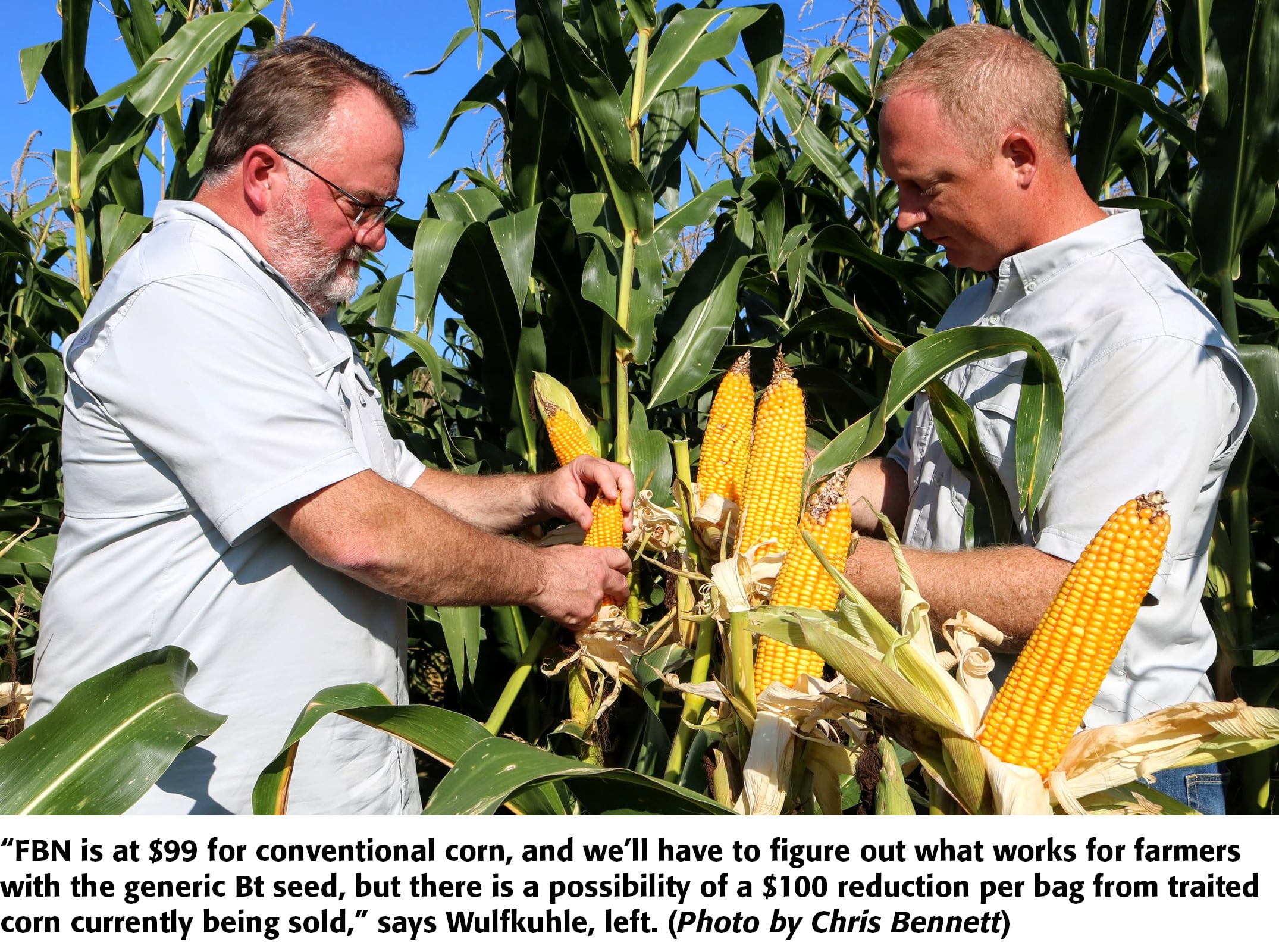 When will generic Bt corn hit the shelf? The 2020 planting season is too early, but Wulfkuhle is hopeful for a debut in the very near future: "We're working with the EPA and won't launch without their approval, and therefore we likely won't be selling this coming spring."
The seed industry faces a chain of expiring patents, with many of the traits used today in corn (and soybeans) debuting in the late 1990s and early 2000s. Bottom line, the patent expiration dates have arrived or are around the bend. "More of these are going to expire," Wulfkuhle says, "and in the future, probably within the next five years, we'll have a double-stacked trait. It will be a refuge hybrid blended with a Bt trait in the same bag."
Options
In summary, Wulfkuhle stresses the yield potential of generic Bt corn, as well as the price difference. "Only the trait is off-patent. The hybrids themselves are new and rely on new genetics. It'd be pointless to sell old genetics with yield that can't match up; that's why we've got new genetics and yield to keep pace. We're also going to start at prices for insect-traited corn that bring incredible ROI to the farmer."
[Fonte: GLP] New breeding techniques can help Africa meet its food security and industrial needs while improving farmer livelihoods, […]
EFSA is setting up a stakeholder consultative group to support its upcoming work on the allergenicity assessment of genetically modified […]
Canada is expected to ratify the EU-Canada Economic and Trade Agreement (CETA) this month, meaning that the trade deal would provisionally enter into force in June. […]